Interim Report on Support for Ukraine by YWCA of Japan and local YWCAs in Japan①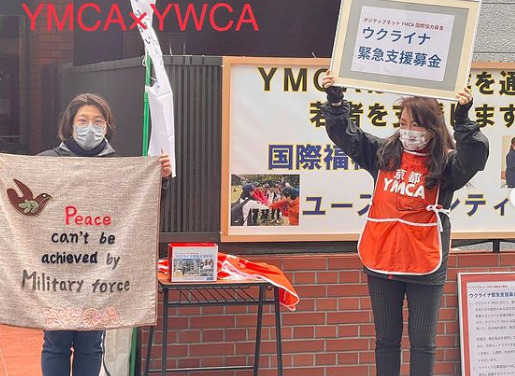 YWCA of Japan
Since the invasion of Ukraine by Russian forces began on February 24, 2022, organizations and individuals around the world have taken various actions calling to stop that war. The YWCA of Japan is no exception, as we are standing in the position of denying all war and violence, and have sent out statements (the first one on February 28 and the second one on April 6), "We strongly call for the immediate withdrawal of Russian troops and a solution through dialogue.
Local YWCAs in Japan
The 24 local YWCAs across the country are also joining the movement of support for Ukraine. Okinawa YWCA (March 18), Niigata YWCA (March 23), and Nagoya YWCA (April 7) have also issued statements of protest against the Russian invasion of Ukraine and called for peace, joining the people around the world in voicing their desire for an immediate ceasefire.
In addition to submitting a statement, Niigata YWCA held a standing protest in front of the Russian Embassy in Niigata (3/17). In addition, a street protest against the Russian invasion of Ukraine (3/18) and a gathering of Niigata citizens for peace (3/25) were held, and the gathering was broadcast on TV. A charity concert dedicated to Ukraine was also held to commemorate the 70th anniversary of the establishment of Niigata YWCA. (6/18)
In late April, Nagoya YWCA accepted two Ukrainian refugees (one teenager and one in their 20s) at the Nagoya YWCA School of Japanese Language, providing them with Japanese language education. In addition, Nagoya YWCA has registered as a "NPO for supporting Ukrainian refugees" launched by Nagoya city government, and is working to provide Japanese language support, trauma care, and other assistance, especially for women and children.
Osaka YWCA, which is also preparing to participate in volunteer activities responding to the call from the local government and municipality, has registered with the Immigration Buerau website designed to connect Ukrainian refugees with NGOs. Moreover, lectures such as "Refugees and Japan" and " Workshop for cross-cultural understanding" will be held in the near future to deepen understanding of Ukrainian refugees and other foreign nationals residing in Japan.
In a further example, many of the 24 local YWCAs throughout Japan share information on their activities in support of Ukraine and their desire for peace through their websites, SNS, emails, newsletters, and other publications. Some local YWCAs have set up donation boxes in their buildings.
Fukuoka YWCA and Kyoto YWCA are actively involved in street fundraising. Kyoto YWCA held an on-line fundraising event (4/23) and collaborated with other organizations in standing up for Ukraine emergency support fundraising (3/20).
Some local YWCAs are also attending seminars run by other organizations as well as holding study sessions themselves(Yokohama YWCA, Tokyo YWCA, Hakodate YWCA, Kumamoto YWCA, and Kyoto YWCA). Kumamoto YWCA held a "Study Session on the Situation in Ukraine and Russia" to gain a deeper understanding of the historical background of both Ukraine and Russia (April 5).
Tokyo YWCA, as part of a group of NGOs, supported an event around peace, Okinawa and Ukraine(6/11). 
Sapporo YWCA and Shizuoka YWCA are holding prayer meetings; since March, Sapporo YWCA has held "Prayer Meeting for Ukraine" every Saturday, which is open to anyone regardless of faith, to pray for the lives lost in the war while sharing thoughts for peace together.
Report of Remittance
Despite the continuing impact of the COVID-19, YWCAs in each region of Japan are working together to support Ukraine in their own way. We are grateful to all those who support our activities in this time of rapidly increasing war and conflict in the world, and we will continue to do what we can to support the people in Ukraine and Ukrainian refugees in Japan, and to continuously send out message for peace.
From March 2022 to April 30, 2022, a total of 993,773,000 yen was raised through the cooperation of local YWCAs in Japan, which has been sent to the YMCA of Japan as a donationto support for Ukraine,and to the YWCA of Ukraine through World YWCA. Thank you from the bottom of our hearts for all your support. Support for Ukraine from all over Japan is still ongoing, please contact your local YWCA or YWCA Japan for more information.
※As of now, the total amount of donations to support Ukraine from March 15 to June 30,2022,a total of 1,730,041JPY was raised through the cooperation of local YWCAs in Japan.