Join us Online: International Day of Peace 2022 #herstory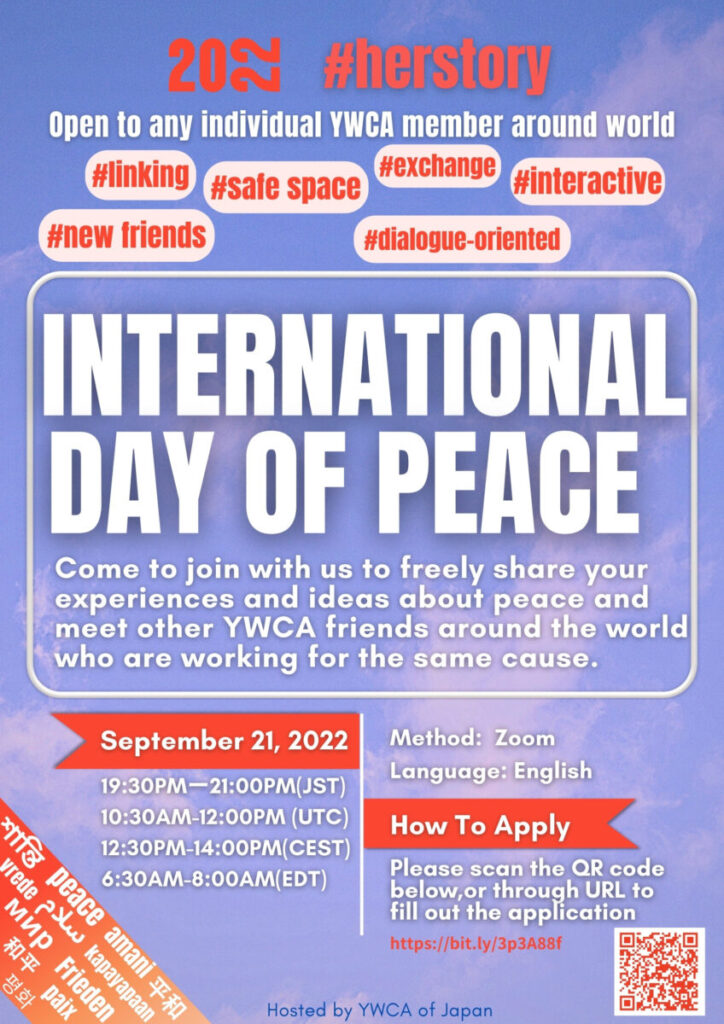 About event
This online event is for any individual YWCA member around the world who is willing to connect with other YWCA members, share their stories, thoughts and ideas and discuss about peace. There will also be a time where participants can make a short appeal to call for international support for their peace-related work.
Event name: International Day of Peace 2022 #herstory
Date: Wednesday, September 21, 2022
Time: 19:30PM-21:00PM(JST)/10:30AM-12:00PM (UTC)/12:30PM-14:00PM(CEST)/6:30AM-8:00AM(EDT) (Click here for time zone conversion)
Language: English
Method: Zoom
Participants: Open to any individual YWCA member around the world. (up to 40 participants)
Deadline for registration: Sunday, September 18, 2022
※If you wish to make a short appeal (around 2 minutes) during the event, please register by September 6
Purposes:
To deepen our connections by meeting YWCAs and individual YWCA members from all over the world.
To strengthen the solidarity of the YWCA and a lively exchange of ideas in a safe space with YWCA members from all over the world.
To discover more about each other's YWCA activities, and to help promote each other's current international support needs.
Program detail
★Group discussion time★
This section will provide a safe space for participants to share their experiences and stories on their personal capacity and get to know each other. Participants will get into small discussion groups according to their interests:
Discussion groups and sample discussion topics
Building inclusive communities:

To discuss what we need in order to realize a peaceful society which is inclusive to everyone regardless of race, nationality, faith, gender, age, economic/social status or mental/physical health conditions.

The role of faith and religion in creating peace:

Based on your lived experience, what challenges need to be addressed for religious communities to be more powerful peace- makers?

Violence against women/girls:

What manifestations of violence against women do we see in our daily lives and communities? What stories or best practices can you share about the work to tackle violence against women?

Sexual exploitation at times of war and conflict:

How are women and girls exposed to violence at times of conflict and war? What systems/policies need to be put in place in order to prevent such situations? What needs to be done to bring justice to the victims?

Conflict resolution and peacebuilding with justice:

Sharing of facts, stories, situation of countries under occupation/conflicts, and discussion on what roles women can play in conflict resolution.

Nuclear weapons/nuclear energy:

Exploring the link between the abolition of nuclear weapons /energy and peace, and thinking of how to build on the resolution "Equal denial of nuclear weapons/energy" adopted in the World YWCA Council 2015.

Young women's Safe Space ( for age under 30 only):

This is an exclusive space for young women who wish to connect with other young women to exchange their views, stories and experience about peace. Young women can either choose to join this group, or join other issue-based discussion groups, according to their preference.
---
★Sharing Appeals from participants for international support★
This session is for any participant who wishes to call for international solidarity and support for their peace-related work at the YWCA. Please register by September 6 if you wish to make a short appeal (about 2 minutes) here.